Volunteer Tour Leaders Needed!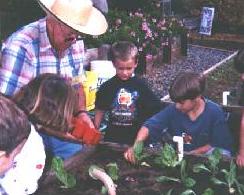 Most of our "microwave generation" children do not know where their food really comes from and they have little opportunity to experience farmlife. Now you can help change that!
Your help is needed to provide children with the opportunity to have a Fun On The Farm! Hands-On Activity Farm Tour. Tours last from two to three hours. Volunteers are needed to help as Tour Assistants and Tour Leaders. No experience is necessary; we will train you.
Come and have fun on the farm as you help give the children a most memorable and wholesome learning experience of life on a small family farm. Call us now to volunteer your time on the farm with the children. Thank you for considering serving today's youth and sustainable agriculture in this way.
Other Volunteer Opportunities
Descriptions by Category
ANIMAL HUSBANDRY

The care and feeding of goats, sheep and chickens.

ARTISTIC SKILL

Graphic design, illustration and sign making.

BOOKEEPING

The keeping of systematic records of money transactions.

CARPENTRY

The construction and repair of needed projects in rough and/or finished carpentry.

CLEANING

Interior cleaning on a regular or project basis.

CLERICAL

Varied office duties such as filing, word processing, cataloging, record keeping, or misc. secretarial.

COOKING

The food prep for special events and/or specialty cooking classes.

ENTERTAINERS

To perform for special events and for our Senior's Tours.

EQUIPMENT REPAIR

The tending to equipment upkeep such as the tractor, mower, pumps, etc.

FUND RAISING

Assist in finding new resources to fund the project.

GARDENING

Helping with any of the many phases of raised-bed vegetable growing.

GRANT WRITER

To search out and help secure grant funding.

GROUNDS MAINTENANCE

Landscape upkeep including mowing, trimming and sweeping.

HARVESTING

The picking and sorting of fruit, vegetables and nuts.

IRRIGATION

The monitoring and repair of irrigation lines.

LEGAL COUNSEL

The availability for consultation on civil and/or nonprofit legal matters.

NONPROFIT ACCOUNTING

The availability for consultation and/or document generation and back-up for nonprofit accounting practices.

ORCHARD CARE

Tree maintenance such as watering, pruning, fruit thinning, mowing weeds, and raking.

PRODUCE STAND

The washing, packing and displaying of produce and other farm stand related activities such as cleaning, supply inventory, stocking and order filling.

SOLAR DEHYDRATING

The washing, cutting and loading of fruit and veggies into the solar dehydrator and packing them when dried.

SOLAR HYDRONICS SPECIALIST

Maintainance and repair of solar equipment.

VIDEOGRAPHY

The historical documentation of projects, events and construction. Also educational video film-making.

WEEDING

An ever-present need!
The Center For Living In Harmony
Little Creek Acres Farm
13802 Little Creek Lane, Valley Center, CA 92082
Phone:760-749-9634 Fax:760-749-0720
E-Mail Address: info@livinginharmony.org
All farm visits are by appointment only.
Please call ahead so we may schedule quality time with you.